Latest Videos
This timelapse video of LightSail's sail deployment test at Cal Poly San Luis Obispo on Sept. 23 shows the sails being deployed and tensioned. After the test, a three-person team refolds the sails and stows them back in the spacecraft. Credit: Justin Foley
---
Have you ever wanted to fly in space...but couldn't? Send your name on OSIRIS-REx for a luxurious 500-day trip to asteroid Bennu! It WON'T get tired and WON'T require oxygen. Sign up now while supplies last!
---
On July 9, The Planetary Society announced the launch of LightSail-1. Watch the recap to hear from experts and space fans alike. In April 2016, LightSail-1 and its parent satellite, Prox-1, are scheduled to hitch a ride to orbit aboard SpaceX's new Falcon Heavy rocket. LightSail-1 will be released into space, unfurl its silver sails and attempt to become the first CubeSat to demonstrate controlled solar sailing—flight by light.
---
The BBC World News America interviewed Planetary Society CEO Bill Nye before an event on Captiol Hill entitled The Lure of Europa. The Planetary Society event featured three congressmen, including the Chairman of the House Science Committe, NASA's Chief Scientist Ellen Stofan, JPL Europa Study Scientist Robert Pappalardo, and Bill Nye The Science Guy.
---
The entire video of The Planetary Society's special Washington, D.C. event, The Lure of Europa. Featuring Bill Nye, NASA Chief Scientist Ellen Stofan, JPL Europa Scientist Robert Pappalardo, House Science Chairman Lamar Smith, Rep. John Culberson, and Rep. Adam Schiff.
---
CubeSats are tiny, low-cost satellites that have opened up new avenues of space research for universities and small organizations. To help CubeSat applications reach the next level, The Planetary Society is testing an elegant propulsion method called solar sailing that could help CubeSats maneuver in Earth orbit and reach interplanetary destinations.
---
Check out our 321-Science video to learn how we chose this asteroid as the target of OSIRIS-REx.
---
Lecture 13 of Dr. Bruce Betts' 2014 online Introductory Planetary Science and Astronomy course covers galaxies (our place in the Milky Way, types of galaxies, Hubble Deep Field), the Universe (determining distances, expansion of the universe, Big Bang theory and evolution of the universe, WMAP and Planck results, dark matter, dark energy, neutrinos), and life in the universe (Earth life requirements, astrobiology, SETI). Recorded at California State University Dominguez Hills.
---
More Videos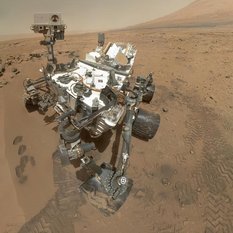 Our Curiosity Knows No Bounds!
Become a member of The Planetary Society and together we will create the future of space exploration.
Be a part of our new headquarters and pave the path to the future with your personalized brick.

Pretty pictures and
awe-inspiring science.
Let's invent the future together!