Latest Videos
Bill Nye gets sent over the Moon via the LADEE Lunar Laser Communication Demonstration (LLCD) laser link. The Planetary Society's Emily Lakdawalla connected live with LLCD principal investigator Don Boroson at MIT's Lincoln Laboratories and LADEE project manager Don Cornwell at NASA Goddard Spaceflight Center to see the LLCD link in action. They played a congratulatory video from Bill Nye over the lunar link to be received on Earth. LLCD paves the way for future space missions to use lasers for high-bandwidth communications, including live HD video from space.
---
It's a 10th anniversary party for Opportunity, the Mars Exploration Rover that is still exploring and discovering on the Red Planet. Join our celebration!
---
Director of Projects Bruce Betts remembers Red Rover Goes to Mars, the Planetary Society's very challenging yet rewarding collaboration with NASA and LEGO that put the names of 4 million exploration fans on the Red Planet, along with Astrobots Biff Starling and Sandy Moondust.
---
Bill Nye the Science Guy and his buddy, Robert, are ready for the 10th anniversary of Opportunity on Mars. The little Mars Exploration Rover is still going strong. Join the celebration!
---
Bill Nye tells how a simple shadowcaster intended for the Mars Exploration Rovers became an interplanetary campaign with the slogan, "Two Worlds, One Sun."
---
For Spirit and Opportunity's 10th anniversary of their landing on Mars, Emily Lakdawalla checks in the student scientists who participated in the Society's Red Rover Goes to Mars project.
---
Jim Bell leads the camera team for the Mars Exploration Rovers that reached Mars exactly 10 years ago. He's also the best-selling author of "Postcards From Mars" and other books, and he is President of the Planetary Society Board. Senior Editor Emily Lakdawalla talks with Jim about some of his favorite images of the Red Planet.
---
Our members and supporters made us your place in space for 2013. CEO Bill Nye the Science Guy, our volunteers, project leaders and staff take this opportunity to share their gratitude.
---
More Videos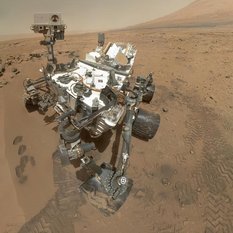 Our Curiosity Knows No Bounds!
Become a member of The Planetary Society and together we will create the future of space exploration.
Be a part of our new headquarters and pave the path to the future with your personalized brick.

Pretty pictures and
awe-inspiring science.
Let's invent the future together!