Planetary Radio
Each week, Planetary Radio visits with a scientist, engineer, project manager, astronaut, advocate or writer who provides a unique and exciting perspective on the exploration of our solar system and beyond. We also showcase regular features that raise your space IQ while they put a smile on your face. Host Mat Kaplan is joined by Planetary Society colleagues Bill Nye the Science Guy, Bruce Betts, and Emily Lakdawalla. We hit the road now and then to produce a Planetary Radio Live show in front of an audience. Drop us a line or enter the weekly space trivia contest at planetaryradio@planetary.org.
Please support your local public radio station that airs the show! Check the station's online schedule or review our online list of affiliates. Satellite radio listeners can hear us Sunday evenings on the Sirius XM Public Radio channel. Want to hear Planetary Radio on your local station? Ask them to contact us or review our radio affiliate information page.
iTunes and other podcast aggregators like Stitcher make it easy to listen and subscribe. Just search for "Planetary Radio." or click the links below.
Recent Shows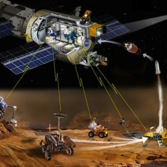 Humans Orbiting Mars: Report on the Workshop
04/07/2015 | 37:28

Guests
A human mission to orbit Mars might be possible by 2033, and it might be accomplished at reasonable cost and with existing or nearly-ready technology. Three leaders of a recent Washington DC conference on this topic provide a report.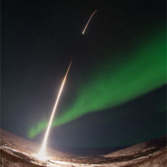 Rocketing Into the Aurora With Neal Brown
04/01/2014 | 28:50

Guests
Neal Brown, Former Director, Poker Flat Research Range
It's back to Alaska, this time to the Poker Flat Research Range, where former Director Neal Brown and his staff launched sounding rockets into the heart of the Aurora Borealis. Emily Lakdawalla explores newly-discovered and very distant dwarf planets, and Bill Nye the Science guy has the latest on NASA's planetary science budget.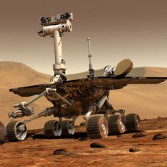 Getting a Rover's-Eye View of Mars
05/12/2003 | 0:28:56

Guests
Jim Bell, President of the Board of Directors, The Planetary Society
Hear excerpts of the Mars Exploration Rover imaging team lead Jim Bell's presentation last week at Planetary Society headquarters; Emily looks for life on the moon, while Bruce Betts says to get ready for this week's lunar eclipse!
Help Planetary Radio grow and become even better. Plus get your own Planetary Radio t-shirt for helping.
I Can Help

Pretty pictures and
awe-inspiring science.
Let's explore the cosmos together!