Family Fun
Get the family together and play some games! We have some downloads to the right for you to print and play. Or scroll down and see how you do with these MER word games.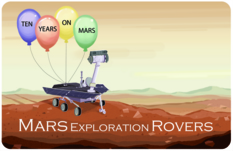 Downloads / Printables
Requires Adobe Reader

Can you find all the Mars rovers in this word search? Look diagonally, down and backwards. Drag your mouse along the word to select it.
---
There are many words to describe the MER team. See if you can find the words in this list.
---
Try completing this crossword by answering the clues. Click on a clue then type your answer slowly to solve