Volume 31, number 3
June Solstice 2011
Shuttle LIFE
Download this issue as a PDF
(Planetary Society members only)
Features

8 Shuttle LIFE Organisms Return: The science has just begun after a successful trip to space for our microorganism friends. The lessons learned from this experiment will aid in the preparation for Phobos LIFE. By Bruce Betts
10 Planetary Cave Dwelling: Using the existing shielding provided by caves is one viable option for habitation on Mars. Lava tubes provide ready-made caves just below Mars' surface. By Jacques Blamont
16 A Symphony of Voices in Vienna: What to do with 10,725 scientists in Vienna? Show how the Planetary Society is supporting the quest to find new planets! By James D. Burke and Andrea Carroll
20 Annual Report to Our Members: Looking back at the year in numbers and milestones passed. By Dan Geraci
Planetary Society Kids: Too hot or too cold in space? Demonstrate at home how spacecraft maintain temperature!
Departments
2 Snapshots from Space Viking redux.
4 Your Place in Space Change is in the air! Bill Nye speaks about the exciting new opportunities and challenges that the Society faces.
6 What's Up? Don't miss the Perseid meteor shower.
7 Volunteer Spotlight Pasadena volunteers.
7 Q&A Does dark matter affect the speed of light?
17 Factinos Voyager finds bubbles; the Milky Way's twin?
18 Advocating Space
Charlene Anderson
says U.S. space policy needs a course correction.
22 Society News Celebrating Louis Friedman.
24 MySky A new Members-only benefit.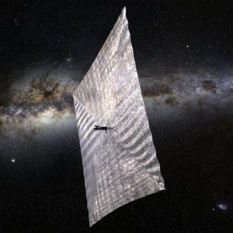 In 2016, The Planetary Society's LightSail program will take the technology a step further.

Pretty pictures and
awe-inspiring science.
Let's invent the future together!