Volume 25, number 3
May/June 2005
Saturn's Icy Moons
Download this issue as a PDF
(Planetary Society members only)
Features

6 The Moon: What We Know and What We Want to Know: James Burke summarizes our current lunar knowledge and what we hope to learn from future missions.
7 Into the Dark: Amanda Hendrix and Jonathan Lunine present the latest views of 7 of Saturn's icy moons—Phoebe, Tethys, Dione, Iapetus, Mimas, Rhea, and Enceladus.
Departments
3 Members' Dialogue Unexplored Neptune and Uranus, Project Daedalus, the smell of methane, and reducing human error in space missions
4 We Make it Happen! Recording the sounds of the solar system
18 World Watch The future of the space shuttle, Hubble, Voyager, and the JIMO mission.
20 Q&A Could methane rivers on Titan carry boulders? How do you slow down a solar sail? How far out can electromagnetic signals from Earth be detected above the universe's background levels?
22 Society News Announcing the Great Comet Crater Contest!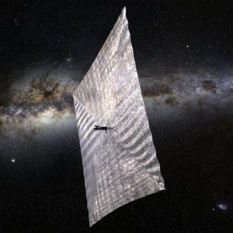 In 2016, The Planetary Society's LightSail program will take the technology a step further.

Pretty pictures and
awe-inspiring science.
Let's invent the future together!