Compare the Planets
Comparing the physical characteristics of the worlds in our solar system (and beyond)
The worlds of our solar system come in all shapes, sizes, and colors. Red-eyed Jupiter, ringed Saturn, and frigid Uranus and Neptune are giant gassy globes containing nearly all of the matter in the solar system. These Jovian planets, or gas giants, are huge worlds of air, clouds, and fluid that may have no solid surfaces no matter how deep you go. Everything else in the solar system is just rock, ice, and dust. The largest rockballs are known as the terrestrial planets: Mercury, Venus, Earth, and Mars, with our Moon usually considered part of the club, and now Vesta is applying for membership. Earth is the biggest of all the rocky worlds.
But the planets are not the only worlds of the solar system. All but two of the planets are orbited by moons, each of them a world unto itself. The largest moons are bigger than the smallest planets, and 16 or 17 would qualify as dwarf planets if they orbited the Sun. There are more than 100 Kuiper belt dwarf planets, but only one among the asteroids, Ceres.
Six solid worlds -- Venus, Earth, Mars, Titan, Triton, and Pluto -- have atmospheres dense enough to produce weather. Eris likely does, when it is near its perihelion. We have witnessed active geology on four worlds -- Earth, Io, Enceladus, and Triton -- and we suspect it on Venus, Europa, and Titan. Comparing the same processes across many worlds helps us to understand how each planet's unique composition and history influence its present state, and will help us predict what to expect on Earth in the future.
Pretty Pictures with Many Worlds

Phobos and Deimos in Spirit's sky, sol 590
High in the Columbia hills and with power to burn, Spirit performed many astronomical observations during its second Martian summer, including capturing the six frames for this animation of Phobos and Deimos moving past each other in the sky in the wee hours of the morning on sol 590 (August 30, 2005). Phobos is the larger of the two, moving quickly from west to east, while Deimos is the slower-moving, smaller, and more distant one.
Filed under pretty pictures, Spirit, amateur image processing, Mars Exploration Rovers, Phobos, many worlds, Deimos, animation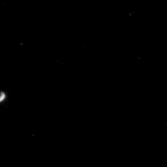 Mutual event of Janus, Epimetheus, and Dione
Cassini captured three of Saturn's moons in motion on December 30, 2005. The camera held still on Janus as larger Dione passed behind it (coming from the right) and smaller Epimetheus hovered overhead.
Filed under Dione, pretty pictures, Cassini, amateur image processing, Saturn's small moons, global views, Saturn's moons, many worlds, animation

Phobos and Deimos mutual event from Mars Express
Mars Express used the Super Resolution Channel (SRC) of its High Resolution Stereo Camera (HRSC) to take 130 images of Mars' moons Phobos and Deimos on November 5, 2009, beginning at 08:14 UTC. The images were taken over a period of 90 seconds at intervals of one second, speeding up to half-second intervals toward the end. The image resolution is 110 meters per pixel for Phobos and 240 meters per pixel for Deimos; Deimos was more than twice as far from the camera.
Filed under pretty pictures, animation, global views, many worlds, Phobos, Deimos, Mars Express
Section Highlights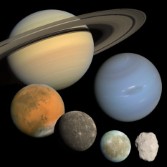 Mass, diameter, density, gravity, orbital characteristics, presented both in metric units and measured relative to Earth.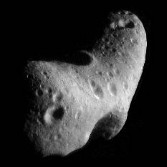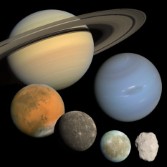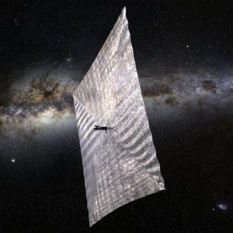 In 2016, The Planetary Society's LightSail program will take the technology a step further.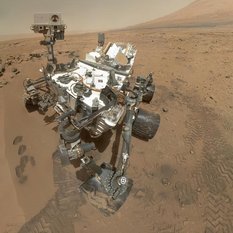 Our Curiosity Knows No Bounds!
Become a member of The Planetary Society and together we will create the future of space exploration.

Pretty pictures and
awe-inspiring science.
Let's invent the future together!