---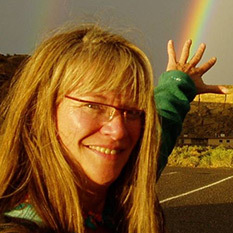 To the Moon with Kaguya
Posted by Cherilynn Morrow
14-09-2007 11:27 CDT
Topics: mission status, personal stories, the Moon, Japanese lunar missions
September 12, 2007: Flying into the Future
September 14, 2007: Good to Go
September 14, 2007: Liftoff!
September 14, 2007: Observing the Launch - Japanese Style
September 12, 2007
Flying into the Future
Like a time traveler, I flew into the future. I flew into tomorrow, as do all passengers who cross the International Date Line. In my case, I passed from September 10 into the afternoon of Tuesday, September 11, 2007. It struck me that exactly six years ago, 9/11 had also been a Tuesday. But that infamous anniversary was yet many hours in the future of New Yorkers as I flew over longitude 180° on my way to from San Francisco to Japan.
Due to the unexpected need to replace a co-pilot who fell ill, the United flight landed me at Tokyo-Narita airport 24 hours later than originally planned. Though I am a reasonably well traveled astronomer-educator, it is my first time in Tokyo, and this enhances my natural tendency to see things afresh, as if I were exploring a new world.
Fresh eyes are only fitting since I am here to join a NASA delegation that has been graciously invited by JAXA – Japan Aerospace Exploration Agency – for the chance to bear witness to the launch and early operations of Japan's first large robotic mission to the Moon -- a lunar orbiter now called KAGUYA (as a Japanese nickname of SELENE -- SELenological and ENgineering Explorer).
The NASA Delegation to Japan for the Launch of KAGUYA
NASA's delegation includes: Dr. Gordon Chin of Goddard Spaceflight Center who is the Project Scientist for NASA's Lunar Reconnaissance Orbiter (LRO, scheduled to launch late in 2008), Dr. Michael Wargo, Chief Lunar Scientist in the Exploration Systems Mission Directorate at NASA Headquarters; and Justin Tilman, NASA Attaché to the Embassy of the United States in Japan. I am a Project Director with the SETI Institute, serving as the international education and public outreach lead for Lunar Reconnaissance Orbiter, and have been asked to bring you these blog reports. They will be reviewed by members of the NASA delegation and by JAXA before their release.
Yesterday, as I crossed the date line, the others who had arrived a day earlier were busy briefing science and technical staff at the US Embassy and JAXA about Lunar Reconnaissance Orbiter and future lunar exploration plans, and receiving briefings on the KAGUYA mission.
Update on the KAGUYA Launch
When I arrived at the Imperial Hotel in downtown Tokyo, I learned that the KAGUYA launch had been delayed from its planned date of September 13 due to stormy weather. So we will not be departing this morning for the launch site as planned. It is typhoon season in the Pacific, as I well recall from a tumultuous September crossing aboard a Semester at Sea ship back in 1994. The weather underground reports for the launch site call for lots of rain and clouds this week, but we remain hopeful. As of late in the day on September 12, the launch is re-scheduled for Friday, September 14.
JAXA reports that KAGUYA is the largest lunar mission of exploration since the Apollo program, and that it will be launched by an H-IIA rocket from Japan's Tanegashima Space Center, which is based on the southern coast of Japan. (Incidentally, the Japanese island in Carl Sagan's Contact was Hokkaido, the northernmost of Japan's four major islands.).
KAGUYA Mission Objectives
The major objectives of the KAGUYA mission are 1) to collect data that will support a better overall understanding of the Moon's origin and evolution, and 2) to explore the possibility of using the Moon for human endeavors. In addition, KAGUYA will carry a high-definition TV camera to produce periodic Earth rise movies from lunar orbit. In one year's time, KAGUYA will investigate the entire Moon, detecting elemental and mineralogical composition, exploring geological features, and measuring remnant magnetic fields and the Moon's gravity field.
The Ancient KAGUYA Folk Tale
The new nickname for these fresh Asian "eyes" on the Moon was chosen by the Japanese public. The 10th century folk tale of KAGUYA is as familiar in Japan as Cinderella is to American schoolchildren. It is among the oldest Japanese narratives. It details the life of a mysterious girl who was found as a tiny baby by an old bamboo cutter inside the stalk of a strangely glowing bamboo plant. The old man and his wife named the baby Kaguya-Hime (radiant night princess), and raised her as their own child. She became an especially beautiful young woman, but it was then revealed that she had come from the Moon and was destined to return there. Her departure brought much sadness to her foster parents, and to the Earthly men who wanted to marry her. Today the sight of the brilliant Moon in the sky reminds us of Kaguya-Hime and the time she spent on Earth.
Lunar Mission Naming Conventions
As the international education and public outreach lead for Lunar Reconnaissance Orbiter, I would love to see NASA invite the public to come up with a more culturally significant name. The Chinese lunar mission scheduled to launch later this fall is called Chang'E 1 - also a mythological Moon princess. The Indian mission to the Moon, due to launch in 2008, is called Chandrayaan-1, meaning "Moon craft" in Sanskrit. I think that such naming conventions create a valuable integration of honoring cultural tradition and boldly leaping into an adventure of modern exploration. Members of the NASA delegation received some lovely gifts from JAXA colleagues (e.g. a fan, a flag, and a framed photograph) reflecting this integration. A culturally meaningful naming convention provides an excellent context for sharing stories (both mythological and scientific) across cultures in an era where an unprecedented number of countries have become space faring.
Public Opportunities to Connect with KAGUYA and Lunar Reconnaissance Orbiter
JAXA and The Planetary Society provided an opportunity for over 400,000 people, including several Japanese celebrities, to make a "Wish Upon the Moon". These wishes will go to the Moon aboard KAGUYA, and JAXA has created a small booklet that includes a collection of selected wishes. Lunar Reconnaissance Orbiter's international education and public outreach program will investigate the possibility of translating this booklet into English. We are also working with the Society to provide an opportunity to send your name and/or message to the Moon aboard the spacecraft. Lunar Reconnaissance Orbiter's current vision is to work with students of the International Space University to propagate the opportunity all around the world, and in particular to countries that are not yet space-faring.
Anticipating the Launch
With my fresh eyes on Japan, I am immediately struck by a pervasive sense of gracious orderliness compared to other places I've been. Everyone from baggage handlers and bus dispatchers at the airport to bellmen at the Imperial Hotel have worked earnestly to make things easy and graceful for me, and every other traveler around me. I wonder how this impression will translate to our experience of the KAGUYA launch. What will the countdown be like? Will it be the same as for American launches I've witnessed? I am excited to see how this drama will unfold, and I ardently hope that some unexpected clear skies are on their way to us.
September 14, 2007
Good to Go
I am writing on a tiny keyboard using Justin Tilman's Treo. This will be short. It is now 20 minutes to launch and all looks good to go.
Last night we watched the launch vehicle transfer to the pad. We are waiting in the Guest House at the Tanegashima Space Center. When it is time, we will don green hard hats and head for the roof to view the launch. The view to the ocean is strikingly beautiful...rock formations like the Oregon coast of the United States, but the water's color is more like the tropics. Our latitude is 30 degrees north.
We have been greeted by Mamiya-san who is the Vice President of JAXA and Professor Kato who is the Chief Scientist of the KAGUYA mission. He is also principal investigator on the X-ray spectrometer. KAGUYA also has an Education and Public Outreach instrument on board - a High Definition TV camera that will make images of Earthrise from lunar orbit! How can this but contribute to a global sense of unity in the face of the unfathomably vast Universe. Such anticipation here!
Representatives from the US, France, Canada, Sweden, and China. The rep from China is Luo Ge, Vice Administator of the Chinese National Space Administration. We're going for the hard hats now....
September 14, 2007
LIFTOFF!
Go, Yon, San, Ni, Ichi, Ignition, LIFT-OFF!! KAYUGA is away!!!
Right on time, carrying the wishes of over 400,000 Earthlings to our moon, as well as the promise of exciting new scientific results.
We are now raising our glasses of sake in celebration of a successful launch. Mike Wargo, Chief Lunar Scientist for NASA's Exploration Systems Mission Directorate, says its the best birthday candle he's ever had!
Early telemetry indicates all is well. KAGUYA will orbit Earth for awhile in a highly elliptical orbit. It will take 20 days to arrive in orbit around the Moon. There are many wonderful photos to share, but sending them will have to await our return to Tokyo. More at that time.
Meanwhile...Go KAYUGA Go!!!
Kaguya launches to the Moon
KAGUYA – named for a mythological princess Kaguya-Hime – starts its journey to the Moon. The Japanese princess returns to the Moon! credit: Gordon Chin
September 14, 2007
Observing the Launch – Japanese Style
I watched the thirteenth launch of Japan's own H-IIA rocket at the remote Tanegashima Space Center give the 3-ton KAGUYA spacecraft its start toward the Moon. I felt overjoyed by the thrilling spectacle, which I watched from just 3 kilometers away, and let out a whooping cry of elation. Such is the American way at moments of triumph like these. But I soon learned that my jubilant response is not the Japanese way. As the clouds and contrails of the launch dispersed in the winds, forming a giant "S" curve in the sky, I became keenly aware that ALL of the 50 or so Japanese scientists, engineers, technicians, and program managers on the rooftops, on the ground, and in the doorways, near our observing position witnessed the exhilarating launch in utter silence.
Having established a reasonably comfortable rapport with a lead scientist and a principal engineer for the SELENE project, I inquired with them over our post-rocket sake about this cultural difference and delicately asked about their inner experience. At first they joked with me about how easy it was to determine the Americans at their launches. The scientist added that he knew from personal experience about the ebullience expressed in the midst of an American launch. They both eventually revealed that there were "lots of thoughts" and "feelings of anticipation", beneath their more reserved outward appearance. It became clear to me that complete equanimity was greatly valued. At the end of my first blog entry I wondered how my immediate sense of the "gracious orderliness" of Japanese culture would manifest in the context of the launch. I think I discovered an answer.
No Margin for Error
And yes, the female countdown voice did say "LIFT-OFF!" The cue that we were in the final 10 seconds for non-Japanese speaking guests was when her cadence became monosyllabic. The "feel" of "5-4-3-2-1" was the same in Japanese as it is in English.
The equanimity of JAXA personnel was even more impressive when we learned that the launch window was only two seconds wide. There was no margin for anything to go wrong today…no possibility of a hold in the countdown. One hitch, and everything would have to be buttoned up and tried again another day.
The weather was "cat-and-mouse". When we left Tokyo yesterday from Haneda Airport, Japan Airlines told us Tanegashima was too stormy and that it was very likely we'd be diverted to Kagoshima Airport (where I'm now sitting as I write, waiting for our flight back to Tokyo). Well, we weren't diverted, and the skies cleared, only to cloud over again as we departed after the launch.
Hats off to WINDS – a Hero for KAGUYA
This reminds me. When the launch was delayed earlier this week due to weather, our NASA delegation was invited to visit the JAXA facility at Tsukuba, about an hour north of Tokyo by train. This facility is akin to NASA's Goddard Spaceflight Center with an exceptional capacity for assembly and test of large spacecraft.
Our host, Dr. Shin-ichi Sobue, showed us a spacecraft being assembled called WINDS (Wideband InterNetworking engineering test and Demonstration Satellite). The reason I mention it is that WINDS turned out to be a hero for KAGUYA (SELENE).
During routine tests of WINDS a vital sub-system failed, and this was traced to a capacitor that had been wired backwards. It was recognized that the same batch of capacitors was used on the two KAGUYA sub-satellites and so they were inspected. The same problem was identified, and its correction delayed the launch of KAGUYA from 16 August to mid-September.
If the launch date had been back in August, it would not have been possible for the NASA delegation to attend owing to the concurrent Site Visit of a proposed mission to Venus called Vesper, on which Gordon Chin is Principal Investigator. Soooo…in a sense we have WINDS to thank for this blogging opportunity for The Planetary Society, but most importantly we have JAXA to appreciate for its meticulous testing procedures that identified a small, but important problem BEFORE flight.
Had the capacitor problem gone uncorrected it is likely that KAGUYA's lunar gravity experiment would have been adversely affected. NASA's Lunar Reconnaissance Orbiter is counting on these data to provide more precise knowledge of its position in lunar orbit during the early stages of the mission. Access to KAGUYA's gravity and laser altimetry data is provided by a formal cooperative agreement between JAXA and NASA.
Up Next
Enough for now. All NASA delegation members have been providing photos to help document this inaugural launch of an exciting International Lunar Decade of international exploration of the Moon. Those pictures are now posted among the earlier entries to provide a comprehensive photographic record of our journey to Japan to witness this historic event.
See other posts from September 2007
---
Or read more blog entries about: mission status, personal stories, the Moon, Japanese lunar missions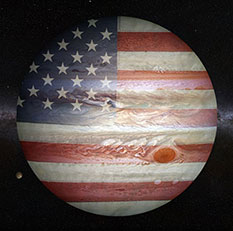 Space rarely makes a strong showing in national elections, despite the major state of transition NASA finds itself in today.
Help us catalog and source statements made by candidates referring to civil space issues.
Featured Video
Splashdown

Pretty pictures and
awe-inspiring science.
Let's invent the future together!